Mike Pfaff 
I Love vacuum tubes! Great tone and music are my lifelong passion. I recently built a tube amplifier to be the back-up for my 1983 Boogie MK II C+ and somehow it went over the top! So here we are today, in 2012, starting an actual, legitimate amplifier company that custom builds amps by hand, one at a time, made in America! These amps are not for everyone -they are for a few "good" guitarists who "get it;" guitarists who understand the vision and concept of "less is more."  In the case of Vintage Voltage Engineering, I emphasize the importance of the "human feeling factor" in the design.  Vintage Voltage amps bring that "magic" out of a guitarist, with the amplifier being an instrument as much as the guitar is. I have never played an amp this articulate and expressive -it is "alive." Your guitar has never sounded like this before!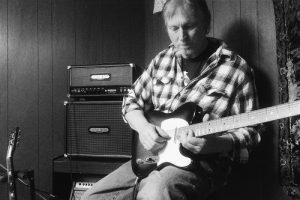 Mike Fauth
This is Mike Fauth my band mate from Sagebrush,  Mo ! if you think the Fiddle Rocks you Gotta hear my Mando-Caster through my new amp! Vail, Colorado will Never be the Same !!! Thanks for a Great Tube Amp Bro !!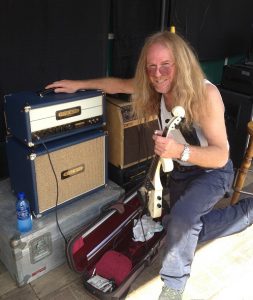 Kenny Rardin: (guitarist/salesman at Solidbody Guitar, St Louis Park, Minnesota)
Wow! Wow! You really nailed it this time, Mo! Very tight low-end! Really cool! I want one!
Charlie Hargret: (original guitarist for Blackfoot) Mo, when I first heard you playing it I came backstage and had to check it out, you let me play it for two sets outdoors !! Great tone,  -Awesome!
Jimmy Sexton: (guitarist for Lynyrd Skynyrd and Molly Hatchet) Great amps, Mo! -We had a blast playing them tonight!
Paul (Buck) Rasmussen: (BAM Studios/guitarist/recording engineer) Unreal tone, Mo! I have 25 amps in the back room and none of them sound this good!  I need two of them! One for the studio and one for stage!
Richard Duffney: (sales/Pro-sound Music/guitarist, Colorado Springs, CO) Mo! Killer amps! -So responsive! All you need is a guitar, a cable and one of these little fire-breathing beasts! How soon can I get one?
Mike Bullock: (recording engineer/lighting grip/vocalist)  Sounds fantastic, Mo! I have been looking for this classic tone for years! I want this one right here! I want the proto-type!
Mike Elstead: (bassist/live sound engineer) Sounds freaking great, Mo! Very expressive picking dynamics; huge blues/rock tones; Chicken-pickin' clean tones are awesome too!Great job!
Glenn Helton: (videographer/guitarist) Sick amp! Crazy good! Sounds way bigger than 24 watts!
Kevin Schmidt: (Tone Syndicate Music/guitarist) Awesome amp! Smooth and clean with guitar volume down and nasty grind with it cranked, Very cool!
Mike Fauth (Sagebrush Fiddle/Mandolin/Guitar) Mo !! Nothing makes my electric violin sound this expressive and my Mando-Caster rips a new one! Awesome tone Mo ! people freak on how Cool these instruments sound!
Greg Buran (57 Chevy/Guitar Instructor) Mo, thanks for letting me play it at that outdoor concert, when I got home I couldn't get the sound of it out of my head, three days went by and I was driving my wife Nuts, she said "Just call Mo up and have him build you one!! How often does that happen???
Darren Quam ( Confusion Band ) Mo, after I played it there was no going back ! Thanks for helping me get Killer Tone ! I Love my new amp !!
TJ Jensen ( The Town Bastards ) Unbelievable Tone Mo !! I Love my new V.V.E. amp !
Marty Larson ( Guitar Factory ) Unreal Tone Mo ! the Aluminum Guitars I build Sound Crazy Cool though my new V.V.E. amp !! Thanks !
Mike Pfaff ( Fellow Guitarist ) More sparkle, more snap, more twang....pure tone, slathered in awesome! Thanks, Mo!